Welcome to Betoaji Okayama! 
 Have you ever known about Betoaji?
 Betoaji is a non-profit and charity organization established by a group of Vietnamese students working and studying in Japan. Our group is carrying out activities in purpose of spreading culture of Vietnam to international friends especially Japanese people with the slogan "live to share, live to love". All of the profits achieved from our activities are donated to the fund supporting poor children in mountainous region of Vietnam. Among these activities, cooking class is one of interesting experiences receiving most interest from participants. 
 Interestingly, from November, 2016 Betoaji Okayama is established as an official branch of general Betoaji Organization. In order to introduce more delicious dishes as well as Vietnamese traditional foods to international friends, we are glad to hold our first cooking class in Okayama city on Saturday, Dec 10th, 2016. In this class, we are going to help you make two popular dishes of Vietnam called Pho Bo (Beef Pho) and Sinh to bo (Avocado Smoothie). As listed in the World's 40 best foods, Pho is a traditional featured dish of Vietnamese cuisine and it is also well-known all over the world so long ago. In this early time of coming winter, what could be better than enjoying a hot bowl of Vietnamese Pho with tasty flavor made by good smell of herbal vegetables, moreish taste of consommé and special flavor of noodle threads. It sounds very tasty, doesn't it? In addition, avocado smoothie is also a very delicious dessert that is not only fragrant but also nourishing and of course, it is very popular in Vietnamese meal, too. Don't miss the chance to join our cooking class on Saturday, Dec 10th, 2016 to make Pho Bo, Avocado smoothie and to experience an enjoyable cooking time together. 
 We are looking forward to seeing you in our first cooking class in OKAYAMA! We are glad to welcome all of you!
■ Time: December 10, 2016 (Sat), 1:30 p.m ~ 4:30 p.m
■ Deadline registration: December 8, 2016 (Thu)
■ No. of pax: 25 persons (priority for early registration)
■ Location:2 Chome-9-38 Ishimachō, Kita-ku, Okayama-shi, Okayama-ken 700-0016 Okayama city ritsu Kyoyama Community Hall Home (2nd Floor)
■ Registration fee:1,200 JPY (Adult) , 500 JPY (Child) 
■ Registration form:http://bit.ly/betoaji-okayama
    or E-mail :This email address is being protected from spambots. You need JavaScript enabled to view it.
■ Contact details:090-8240-7034(Huong)
         080-9680-9696(Trang)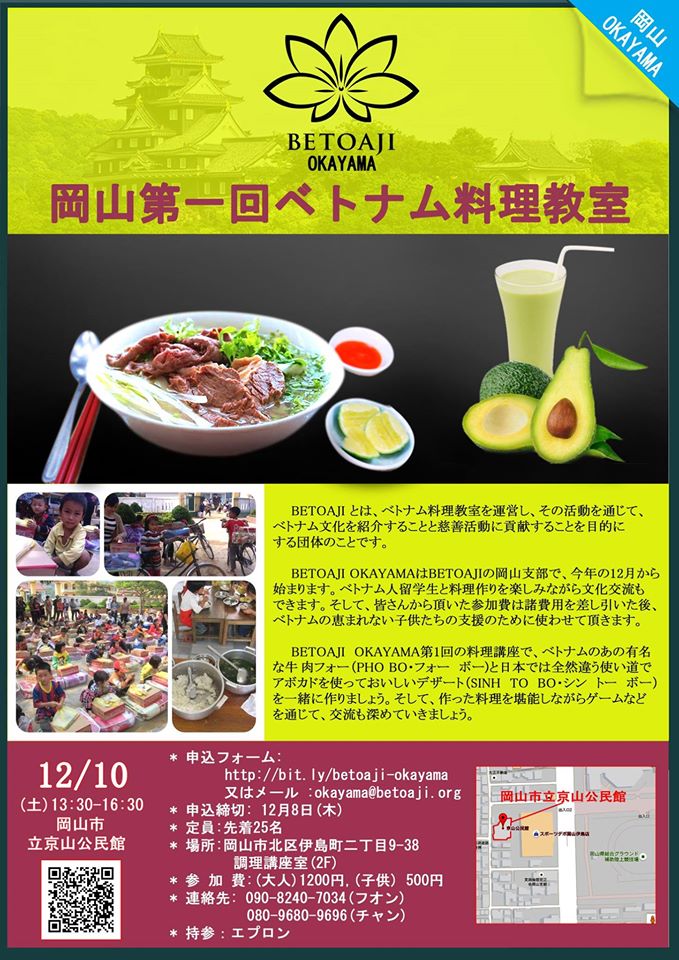 ☆LIVE TO LOVE - LIVE TO SHARE☆