"BETOAJI SCHOLARSHIP FOUNDATION" PROJECT
I. Introduction 
BETOAJI is a non-profit and charity organization, toward two core targets: (1) sharing of Vietnamese culture to international friends, and (2) conducting of charitable and social activities to support poor children in Vietnam. Currently, we are undertaking several introductive, cultural sharing as well as foundation making activities. Some of them can be listed such as Vietnamese food cooking class, cultural introduction class for Japanese and international friends, call for donation and contribution from other individuals and organizations. In regarding of social and charitable activities, BETOAJI is attempting to assist "Only Rice is Not Enough" program in Vietnam through our "Small Family - Big Love" project. We also freely exam the teeth for pupils, support the library establishment in the countryside in Vietnam.
From the perspective of our program, we deserve to diversify as well as actively join in social and charitable activities. At this moment, we want to effectively support the scholarships to poor children (involving Ethnic children) in mountainous areas. They will facilitate the basic facilities for our children so that they can keep studying. "BETOAJI Scholarship Foundation" was born from those kindly purposes.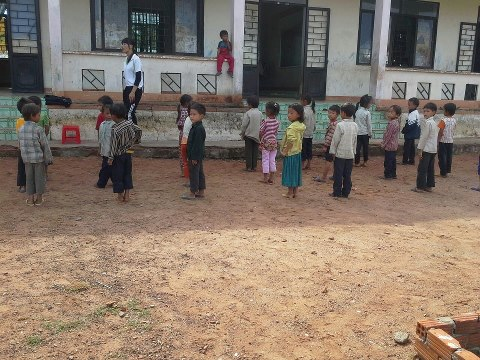 The pupils in Easup district: Several pupils go to school without any sandals
II. Contents and organization of BETOAJI Scholarship Foundation
II.1. Objectives
 - BETOAJI Scholarship Foundation (hereafter named BETOAJI foundation) will present the scholarships to poor children in primary school in slow developmental areas of economy or minority Ethnic people. 
 - Criteria for candidate selection:
 + The circumstances of family and pupils: The family is confirmed as one of the following criteria: poor family, orphan pupils (father and/or mother), fatal disease infected parent, (extreme) invalid pupils.
 + Grade and conduct ranking of pupils: A "fair" ranking will be required as the minimum criteria.
 + In case of several pupils of satisfying the above criteria, their grade ranking will be utilized for the selection.
 II.2.Number of pupils and scholarship funding (anticipation for the first period, 2013-2014)
 - Number of pupils: 50 individuals
 - Scholarship: 120,000 VND (approximately 500 Japanese yen)/month x 9 months in one school year
II. 3. Eligible locations for the first period
 - The scholarship program will be applied in the primary schools in ten communes and towns of Easup district, Daklak province, Tay Nguyen, Vietnam. Easup is the mountainous and remote district of Daklak province with Ê Đê, Djarai people as the primary Ethnic people. Both of the conditions of infrastructure and economy are in low development.
 II. 4. Project funding
 - Currently, some of organizations in Japan accepted to donate 50-70 scholarships to poor children with management of BETOAJI from September, 2013.
 - BETOAJI will pay for this activity approximately 225,000 Japanese yen (about 50 million VND) in case of lacking of the donation.
II.3. Staffs
- General responsibility: BETOAJI organization.
- Direct responsibility:
+ In Vietnam: Nguyen Thu Hong
+ In Japan: Lam Dai Phong, Nguyen Thi Thu, Nguyen Thanh Binh
II.4. Conducting schedule (in draft)
- April – May: Field observation, making a list of name and necessary information of pupils.
At this time, BETOAJI has the first cooperation activities with the local government as well as rectors of primary school. We directly observed and made of list of more than 50 pupils who satisfy all the criteria.
- June: Proposal defense with donation organizations.
- July – August: Propose the final version of the project, and preparation of staffs, funding, organization.
- September, 2013 – May, 2014: Project in activities (to give the scholarship to pupils, monitor the project and other activities).
- May, 2014: Evaluation, conclusion and perspective assessment of the project in the future.